July 11, 2022
Introducing the Cambridge Crossing Amenity Center
We are thrilled to debut the Cambridge Crossing Amenity Center and pool in time for summer fun! Our fabulous new amenity will be the heartbeat of our community as a gathering place for events and nurturing new friendships with neighbors.
Cambridge Crossing Amenity Center
Step inside the new Cambridge Crossing Amenity Center and you'll see an elegant space unlike any other amenity center in North Texas. The English manor-themed complex matches the aesthetic of the community and showcases traditional architecture set on an axis to give a direct line of sight to beautiful features both inside and outside of the building.
The 6,700-sq.-ft. Amenity Center features a welcome center, offices for our lifestyle director and HOA team, touchscreen presentations with information about our community, a sitting room near a stylish fireplace, a full-featured fitness center with a variety of equipment and machines, a spacious lounge with lots of seating, a sophisticated kitchen overlooking the pool, and a snack bar where residents can purchase food and drinks. Outside, you'll find a covered side patio for lounging, an event lawn and stage, and the resort-style pool area also featuring a lap pool, cabanas, hot tub, and outdoor restrooms.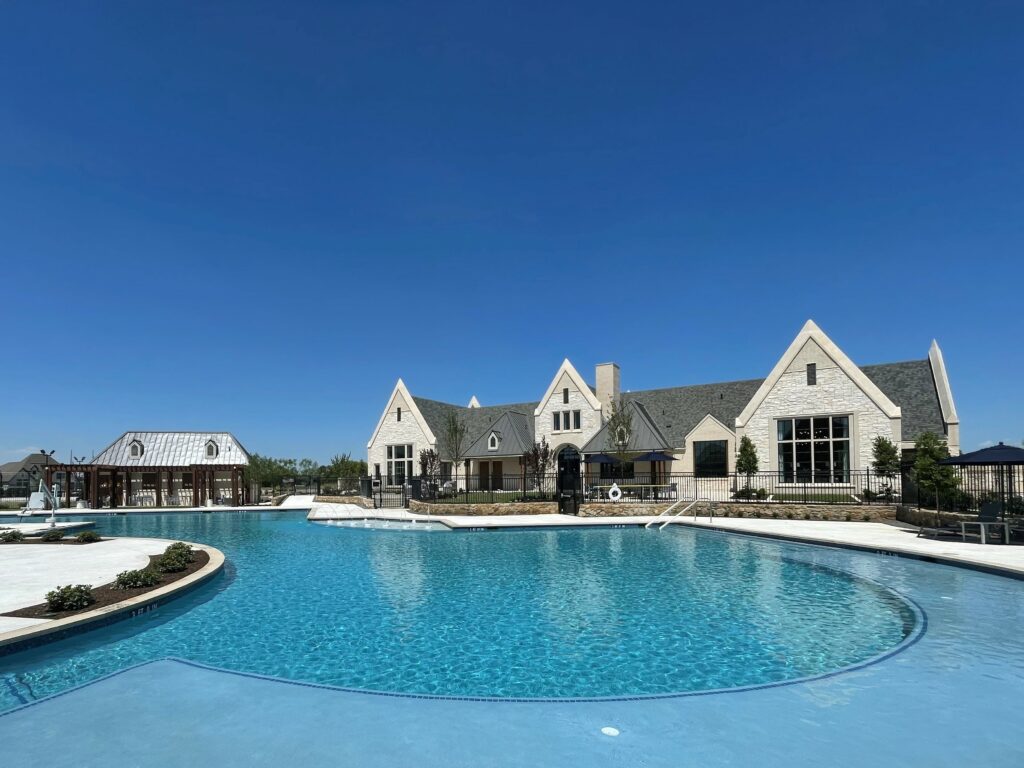 A playground and athletic courts including pickleball and half-court basketball are also underway with estimated completion this fall.
After pool access cards are distributed to homeowners, the pool hours will be 9 a.m.-10 p.m. Sunday-Saturday. Finishing touches are happening on the Amenity Center at this time, but homeowners are able to take a tour of the facility in the meantime. Stay tuned for the official opening date from the HOA!
Additional Amenities
We are proud of our beautiful new Amenity Center, which is connected to the rest of the community by winding trails, lakes and pocket parks with shaded structures and seating. The whole family will love talking walks to the Amenity Center and admiring the beauty of the community.
Another amenity coming soon? An on-site Celina ISD elementary school is anticipated to open in Cambridge Crossing in 2024. The new facility will feature a central outdoor amphitheater and learning center!
Cambridge Crossing's developer has also prepared for the community's growth with plans for a future second amenity center. We can't wait to welcome new families and watch our master plan come to life.
Move to Cambridge Crossing
This summer is a fantastic time to start looking for a new home in Cambridge Crossing. Highland Homes has started pre-selling a limited number of new 74-foot homesites and will also begin building on new 40-foot lots this summer. Coventry Homes will also soon begin pre-selling 40-foot homesites and has several new move-in ready homes on 60-foot lots coming this fall.
Interested in making your move to Cambridge Crossing? Contact us today for more information about the Cambridge Crossing lifestyle or visit our new welcome center in our Amenity Center at 2225 Huddleston Drive Celina, TX 75009.